Saturday, June 18, 2011
Posted by

Carol
at 8:05 AM
No comments:
Links to this post

Tuesday, June 14, 2011
The last time I went fabric shopping I didn't have much luck. This time I prayed and channeled all the positive energy I could find into the trip. :) I so needed to get good fabric. Thankfully the guy I know at the shop was there and my spirits lifted instantly! Gosh... how we depend on people whose names we don't even know. I should ask him the next time. So I came away with lots of good stuff.
Then I went looking for muslin and found something close to it in another shop. A girl was also looking at fabric there and asked me if I was making a quilt. I don't know what gave me away... I was only asking for 10 meters of cloth that was similar to muslin. We got talking and I found that she had read my blog and was now looking to buy fabric for her very first quilt! I get really excited when I meet another quilter (even if they are just starting off) and someone who has read my blog!
Isn't this way better than spending Monday at an office?
Posted by

Carol
at 9:35 AM
No comments:
Links to this post

Tuesday, June 7, 2011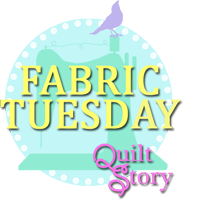 Linking up to
Fabric Tuesday over at Quilt Story
. I don't think I can manage to link up to Fabric Tuesday and WiP in one week! Not yet at least.
So I decided to drop the peppermint looking pink fabric for the Hello Kitty Quilt and found some lovely solid pastel pink that goes quite well with the pink of the Hello Kitty fabric. The solid was one of my earliest buys from Okalipuram. I'm always thrilled with something you buy waits on the shelf for a while and then much later becomes the perfect fit for a quilt. A little like life don't you think?
I love this fabric. The flowers just pop out at you! I made this as a Thank You for my friend Nidhi who designed my
Happy Turtle logo
for me. She loved it and I think her daughter has already stolen the bag from her... or is at least trying to. :)
And this little wall hanging is also for Nidhi. She's got it up on her board at work she tells me. :) My first try at some free motion quilting.
Ok. After Susan's comment I guess I must say that I did practice on scrap cloth before I took this on. :)
Posted by

Carol
at 8:36 AM
10 comments:
Links to this post